NetConnection Debugger Alternates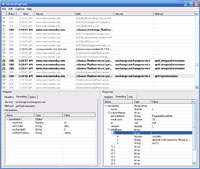 Today I've started a new Flash project which will also involve Flash Remoting. Thus I decided to try this ServiceCapture tools for debugging the amf messages as replacement of the builtin NetConnection debugger.
I'm really suck of the flash NetConnection Debugger (it works 50% of the times for me). Sometimes I need to close and re-open it in order to make it works again, sometimes it doesnt display anything at all...
Btw, ServiceCapture can capture every kind of HTTP traffic, not only remoting calls and it has also a bandwidth simulation feature. (and these are cool features)
However the full license costs $34.99, which is not so cheap for this kind of tool.